One of the biggest challenges in developing solutions for medical image diagnosis is the lack of efficient open-source annotation tools which have the ability to manage and label large-scale datasets. Thus, the Medical Imaging Department, Vingroup Big Data Institute (VinBigdata) decided to release VinDr Lab – our DICOM annotation tool into the open-source.
Our motivation
For the development of Artificial Intelligence (AI) applications, data is the key factor. To be clean and valuable for algorithms, the data needs to be labeled and annotated by humans.
In fact, there are many open source software available for labeling data of natural images, speeches, and documents. However, there is no open-source annotation tool that allows label management and assignment for large-scale medical datasets.
About VinDr Lab
VinDr Lab is an open-source software for managing and labeling medical image data. Developed by VinBigdata, the software aims at eliminating difficulties that engineers and organizations face in the process of building medical Artificial Intelligence-based solutions. Users can completely customize the source code to serve their own purposes.
Currently VinDr Lab is supporting to label X-ray images of lungs, breasts and bones. The annotation features for CT and MRI images are under development and expected to release in the near future. Sharing open source code on Github, VinDr Lab developers hope for technology community support and contribution to gradually upgrade the solution.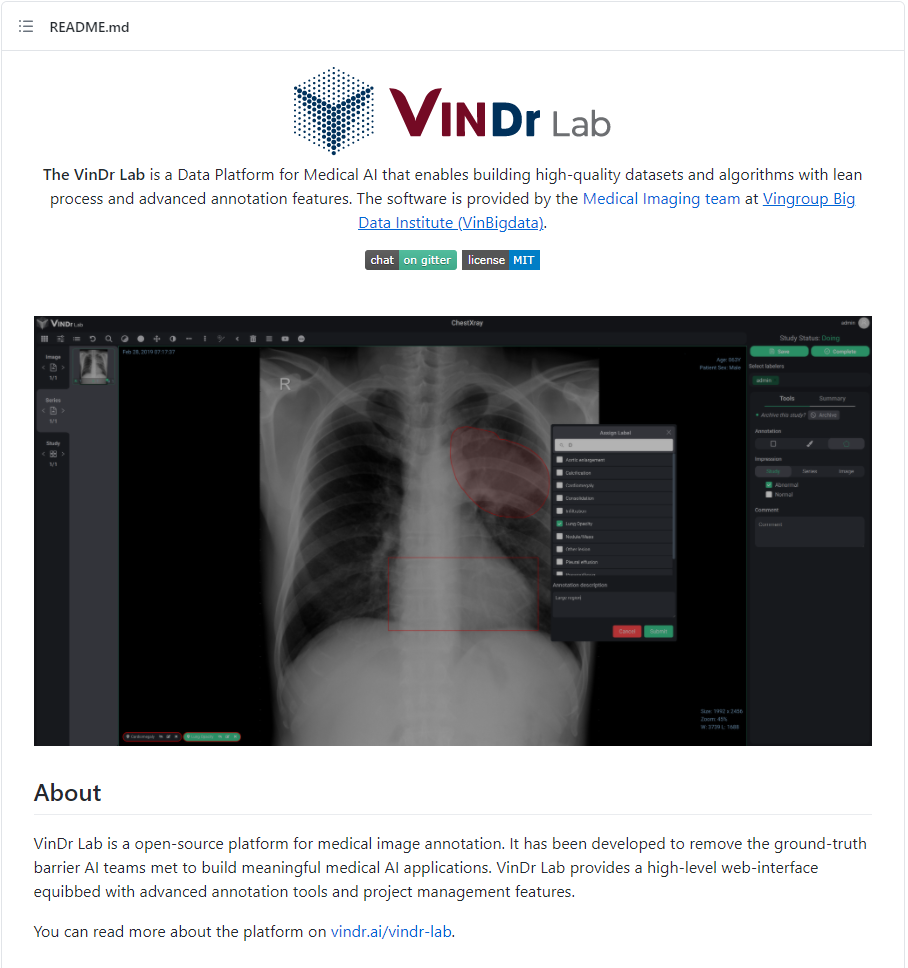 VinDr Lab's highlighted feature
1, Project management
Manage full medical data cycle at study level.
Control workflow with blind and/or open annotating.
Track project progress and status of each task.
2, Label management
Customize preset label groups or create a new one.
Allow hierarchical labels.
Arrange the order of labels appearing to labelers.
3, Advanced annotation tools
Annotate with Bounding Box, Polygon, Brush.
Elaborate annotations with notes and comments.
4, Task management
Re-assign tasks if unsatisfactory.
Monitor the distribution of labels in a project.
Control versions of exported labels.
VinDr Lab's value
VinDr Lab is a web-based platform that can be used for on-premises or network deployment.
Anyone who has an account can collaborate in labeling and managing data. It also allows multiple annotators to work at the same time and remotely.
VinDr Lab is always open to community's requests for new features. We believe that the community will contribute to the future of this product.
Annotation project management with full of basic features:

Relevant data organization for the healthcare sector.
Tools for data labeling management and sharing.
Project management.
Quality control of labeling process.

Contribute to the community an open source software:

It is as part of comprehensive medical solutions.
It is possible to customize the source code to serve the purposes of individuals and organizations.
Who is VinDr Lab's users?
AI research individuals and organizations.
AI an software engineers.
Companies and organizations demand to label medical data.
How to access VinDr Lab?
Main github project as well as member projects have instruction file (README.md) for user reference.